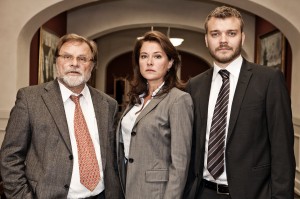 We are currently living in a Golden Age of television drama – well-written screenplays, innovative narrative techniques, significant themes, gripping stories, mostly true-to-life representations, all superbly-acted, and realized with attention to detail and high production values.  See, for instance:
24 (although many implausible plots, the office politics is true-to-life)
Band of Brothers
Borgen
Breaking Bad
The Bridge
Covert Affairs
Damages
Deadwood
Generation Kill
The Good Wife
Homeland
The Hour
House of Cards
The Killing
Mad Men
The Newsroom
Political Animals
Prisoners of War (Hatufim)
The Sopranos
Spiral (Engrenages)
Spooks
Sports Night
Studio 60 on the Sunset Strip
Suits
The Unit
The West Wing
The Wire
Like the golden age of Elizabethan and Jacobean theatre, one has to wonder:   Why here? Why now?