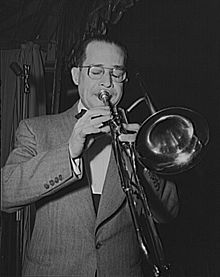 One of life's pleasures is listening to John Schaefer's superb radio program on WNYC, New Sounds from New York.  I have just heard his recent program presenting different versions of the jazz standard, Caravan. The song is associated with Duke Ellington, although it was composed by trombonist Juan Tizol (pictured playing a valve trombone), and the words were by Irving Mills.   Some of these versions I knew and like, particularly the ambient versions of trumpeter John Hassell:
Jon Hassell:  Fascinoma. Water Lily Acoustics, 1999.
The program also included a superb ska version which I did not know before, by the band Hepcat:
Hepcat:  Out of Nowhere. Hellcat, 2004.   (Reissue of Moon Ska Records, 1983).
One great version not on the program is an arrangement by Gordon Jenkins. This has a fast-moving orchestral accompaniment (sounding like a walking treble), and was included in Season 1 of Mad Men.  Someone has posted a recording on Youtube here.
Mad Men:  Music from the Series, volume 1. Lionsgate, 2008.
A superb live version I once heard by a violin-and-guitar band in Brisbane I have written about here.
Two other great ambient albums are:
Bill Laswell and Remix Productions:  Bob Marley Dreams of Freedom. Ambient Translations of Bob Marley in Dub. Island Records, 1997.
Ethiopiques, Volume 4.  Ethio Jazz and Musique Instrumental 1969-1974. Buda Musique.  This volume comprises performances and arrangements by Ethiopian jazz keyboardist, Mulatu Astatke, on albums first issued in Ethiopia in 1972 and 1974.
Posts in this series are here.