Another poem from Aidan Coleman, whom I thank again for his permission to post this.
CAT IN EMPTY AVIARY
Today
is a day for weather:
sun-blue
with a scattering of popcorn.
Today
I'll let the phone
ring
and only answer the kettle,
learn
idleness and bliss
from next-door's lounging
cat
who dares a judgment
to come:
a prisoner
of nothing but sun.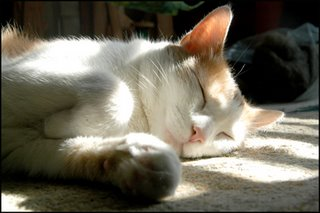 References:
Aidan Coleman [2005]:  Avenues and Runways.  Australia: Brandl & Schlesinger Poetry.
Some more poems by Aidan Coleman can be found in an ABC Radio National podcast,  here.
Previous poetry posts can found be here.