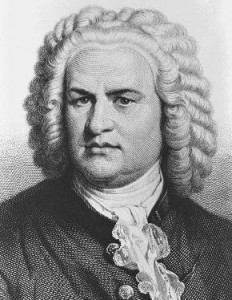 Last night I heard a thrilling performance in Manchester's Bridgewater Hall of Bach's St Matthew Passion, performed by Manchester Camerata, the Choir of Clare College, Cambridge, and the choristers of Manchester Cathedral, under Nicholas Kraemer.   The two orchestras and choirs were arranged on the left and right sides of the stage, with the children's chorus in between.  I have seen this work staged in many different ways, including with the choirs seated side-by-side, and even enmeshed together (overlayed is what a computer scientist would say; gemuddled might be the appropriate German word).   I think last night's staging was probably the best I have heard, since the various parts were much more distinguishable than they are normally, and the stereophonic effects quite powerful.
The evangelist was James Gilchrist, whom I have heard in this part before, and he gave an intense and very dramatic performance, as close to a theatrical performance as a singer can get.   The other soloists – Matthew Hargreaves (as Christ), Elizabeth Weisberg, Clare Wilkinson, Mark Le Brocq and Stephen Loges – all gave solid, hall-filling and hall-stopping performances.
The continuo part was played on two small organs, a cello and a lute.   This is the first time I have heard a lute in this Passion – I guess finding a viola da gamba player is normally hard enough, let alone a lutist.  I was sitting close enough to hear the lute, played by Lynda Sayce, and it added a nice, somewhat bitter-sweet, edge to the overall sound.   I doubt this could be heard further back, though.   The lute, the cello, played by Jonathan Price, and one organ, played by Ashok Gupta, were physically located around the Evangelist, which had the effect of making the singer and continuo more of a single unit in the recitatives than is usual.  Often, the recitatives in the music of Bach seem a little out of place to me – neither quite speech nor quite song – and so putting the singer with the continuo created a mini-ensemble which had its own coherent logic.   I was sitting quite close to this group, and thus could see their playing and their co-ordination with one another, as well as hear each part well.   I was particularly impressed by Gupta's confident playing.
The other organ, played by Christopher Stokes, was at the far rear of the stage, and I could hear it less well.  I suppose it was placed there to be near the walk-on soloists.   In the main, the voices of these soloists did not project so well last night, at least not to my position in the left front stalls, diagonally opposite and down stage from them.    (I expect the hall's acoustics were not designed for projection in that way – most concert hall projection is designed to be up and out from the stage, rather than across and down stage).  Perhaps because of his strong voice, the only singer who stood out in this regard was Adam Drew (as Judas), who sang confidently and dramatically.
With a work of such great spiritual depth, I always feel that immediate applause is not appropriate.  We should sit, still and silent, for a few moments upon completion, to meditate on the meaning of what we have just heard. I've never met an audience that agrees with me, however, and last night was no exception.
Of the dozen or so times I have heard this Passion, across three continents, last night's superb performance was one of the best two or three.
Earlier posts on music are here.