This post is a history of the family of Charles Burney FRS (1726-1814), musician and musicologist, and his ancestors and descendants.
Sir MacBurney was one of the 60 Knights who participated in a jousting tournament, supervised by Geoffrey Chaucer on the orders of Richard II, held at Smithfield in London in 1390.
One James Macburney is said to have come south to London from Scotland with King James I and VI in 1603.   His descendant (likely a grandson), also James Macburney, was born around 1653 and had a house in Whitehall.   His son, also called James Macburney (1678-1749), was born in Great Hanwood, Shropshire, around 1678, and attended Westminster School in London.   In 1697, he eloped with Rebecca Ellis, against his father's wishes. As a consequence, the younger James was not left anything when his father died.  The  younger man's stepbrother, Joseph Macburney (born of a second wife) was left the entire estate of their father.
This younger James Macburney (1678-1749) was a dancer, violinist and painter, and was supposedly a wit and bon viveur.  He and Rebecca Ellis had 15 children over 20 years, of whom 9 survived into adulthood.   By 1720, he had moved to Shrewsbury,  and Rebecca had died.  He married again, to Ann Cooper, who apparently brought money to the union which helped her somewhat feckless husband. This second marriage produced 5 further children, among whom were Richard Burney (1723-1792) (christened "Berney").  The last two children were twins, Charles Burney (1726-1814) and Susanna (1726-1734?), who died at the age of 8.  Their father James had apparently dropped the prefix "Mac" around the time of the birth of the  twins.
One of Charles' half-brothers was James Burney (1710-1789), who was organist at St. Mary's Church, Shrewsbury, for 54 years, from 1732 to 1786. Charles Burney worked as his assistant from 1742 until 1744.
For a period, Charles Burney and his family lived in Isaac Newton's former house at 35 St Martin's Street, Leicester Square, London.  Among Charles' children were:
Esther Burney (1749-1832), harpsichordist, who married her cousin Charles Rousseau Burney (1747-1819), also a keyboardist and violinist.
Rear Admiral James Burney RN FRS (1750-1821), naval historian and sailor, who twice sailed around the world with Captain James Cook RN.
Fanny Burney, later Madame d'Arblay (1752-1840), novelist and playwright.
Rev. Charles Burney FRS (1757-1817), classical scholar.
Charlotte Ann Burney, later Mrs Broome (1761-1838), novelist.
Sarah Harriet Burney (1772-1844), novelist.
Charles' nephew, Edward Francisco Burney (1760-1848), artist and violinist, was a brother to Charles Rousseau Burney, both sons of Richard Burney (1723-1792), Charles's elder brother.  This is a self-portrait of Edward Francisco Burney (Creative Commons License from National Portrait Gallery, London):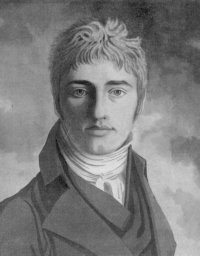 In 1793, Fanny Burney married Alexandre-Jean-Baptiste Piochard D'Arblay (1754-1818), an emigre French aristocrat and soldier, and adjutant-general to Lafayette. Their son, Alexander d'Arblay (1794-1837), was a poet and keen chess-player, and was 10th wrangler in the Mathematics Tripos at Cambridge in 1818, where he was a friend of fellow-student Charles Babbage.  He was also a member of Babbage's Analytical Society (forerunner of the Cambridge Philosophical Society), which sought to introduce modern analysis, including Leibnizian notation for the differential calculus, into mathematics teaching at Cambridge. d'Arblay was ordained and served as founding minister of Camden Town Chapel (later the Greek Orthodox All Saints Camden) from 1824-1837, and then served briefly at Ely Chapel in High Holborn, London. The founding organist at Camden Town Chapel was Samuel Wesley (1766-1837).
Not everyone was a fan of clan Burney. Here is William Hazlitt:
"There are whole families who are born classical, and are entered in the heralds' college of reputation by the right of consanguinity. Literature, like nobility, runs in the blood. There is the Burney family. There is no end of it or its pretensions. It produces wits, scholars, novelists, musicians, artists in 'numbers numberless.' The name is alone a passport to the Temple of Fame. Those who bear it are free of Parnassus by birthright. The founder of it was himself an historian and a musician, but more of a courtier and man of the world than either. The secret of his success may perhaps be discovered in the following passage, where, in alluding to three eminent performers on different instruments, he says: 'These three illustrious personages were introduced at the Emperor's court,' etc.; speaking of them as if they were foreign ambassadors or princes of the blood, and thus magnifying himself and his profession. This overshadowing manner carries nearly everything before it, and mystifies a great many. There is nothing like putting the best face upon things, and leaving others to find out the difference. He who could call three musicians 'personages' would himself play a personage through life, and succeed in his leading object. Sir Joshua Reynolds, remarking on this passage, said: 'No one had a greater respect than he had for his profession, but that he should never think of applying to it epithets that were appropriated merely to external rank and distinction.' Madame d'Arblay, it must be owned, had cleverness enough to stock a whole family, and to set up her cousin-germans, male and female, for wits and virtuosos to the third and fourth generation. The rest have done nothing, that I know of, but keep up the name." (On the Aristocracy of Letters, 1822).
References:
ODNB
K. S. Grant: " Charles Burney", Grove Music Online. (Accessed 2006-12-10.)
POST MOST RECENTLY UPDATED:  2014-08-30.