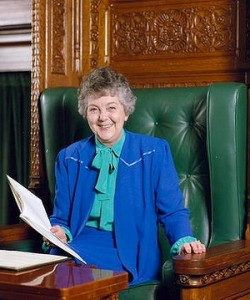 The death has occurred of Mrs Joan Child (1921-2013), first female Speaker of the Australian House of Representatives (1986-1989) and Labor MHR for Henty in Melbourne (1974-1975, 1980-1990).  She was the first female Labor Party MHR, and only the fourth woman elected to the House.   That it took 73 years for the Australian Labor Party to elect a woman to the Lower House of Federal Parliament is quite telling about attitudes in the Party and in the wider society.  As Speaker, she refused to wear the traditional wig and gown, and was always very down-to-earth.   On the evening before the Queen's opening of the new Australian Commonwealth Parliament House in 1988, for instance, Madame Speaker Child could be found relaxing where she often went – having a drink and playing the pokies at the Canberra Labor Club.  She was always quite approachable there, too.
Her SMH obit is here.
POSTSCRIPT (2013-03-29):  Here is James Button, son of former Labor Industry Minister, Senator John Button, writing about the ALP:
Outside Albania, was there ever a more macho party than the old ALP?  Its first female member of the House of Representatives, Joan Child, was not elected until 1974, thirty-one years after Enid Lyons became the first female conservative MP.  It was a party that prized hardness, humour, guts and aggression:  men who could hold their drink, hold their tongue when they had to, and hold their own in argument.  Its language was vivid, often vulgar.  Doing the numbers for Hawke, his backer Graham Richardson once said, was 'better than sex and almost as exciting as a good feed'."  (Button 2013, page 126 of large print edition)
James Button [2012]: Speechless:  A Year in my Father's Business.  Melbourne, Australia:  Melbourne University Press.