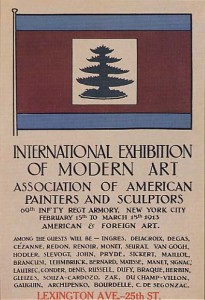 It is 100 years since the Armory Show, an influential exhibition of European and American visual art that toured New York, Chicago and Boston.   Some 70,000 people attended the New York exhibition (which ran from 1913-02-15 to 1913-03-17), and almost 190,000 the Chicago event.    The viewers included former President Theodore Roosevelt, who wrote a review of the show, here.  Although not a fan of the cubists and futurists, he was surprisingly open to innovation.   An excerpt:
The recent "International Exhibition of Modern Art" in New York was really noteworthy. Messrs. Davies, Kuhn, Gregg, and their fellow members of the Association of American Painters and Sculptors have done a work of very real value in securing such an exhibition of the works of both foreign and native painters and sculptors. Primarily their purpose was to give the public a chance to see what has recently been going on abroad. No similar collection of the works of European "moderns" has ever been exhibited in this country. The exhibitors are quite right as to the need of showing to our people in this manner the art forces which of late have been at work in Europe, forces which cannot be ignored.
This does not mean that I in the least accept the view that these men take of the European extremists whose pictures are here exhibited. It is true, as the champions of these extremists say, that there can be no life without change, no development without change, and that to be afraid of what is different or unfamiliar is to be afraid of life. It is no less true, however, that change may mean death and not life, and retrogression instead of development. Probably we err in treating most of these pictures seriously. It is likely that many of them represent in the painters the astute appreciation of the powers to make folly lucrative which the late P. T. Barnum showed with his faked mermaid. There are thousands of people who will pay small sums to look at a faked mermaid; and now and then one of this kind with enough money will buy a Cubist picture, or a picture of a misshapen nude woman, repellent from every standpoint.
In some ways it is the work of the American painters and sculptors which is of most interest in this collection, and a glance at this work must convince any one of the real good that is coming out of the new movements, fantastic though many of the developments of these new movements are. There was one note entirely absent from the exhibition, and that was the note of the commonplace. There was not a touch of simpering, self-satisfied conventionality anywhere in the exhibition. Any sculptor or painter who had in him something to express and the power of expressing it found the field open to him.  He did not have to be afraid because his work was not along ordinary lines. There was no stunting or dwarfing, no requirement that a man whose gift lay in new directions should measure up or down to stereotyped and fossilized standards."
What with TR's imperialism and all, it is easy to forget how good a writer he was, being a published author before becoming President.   Like another Nobel-Peace-Prize-winning President.
Reference:
Theodore Roosevelt [1913]: A Layman's Views of an Art Exhibition. Outlook, 103 (29 March 1913): 718–720. Reprinted in Roderick Nash [1970] (Editor):   The Call of the Wild (1900–1916). New York: George Braziller.