Just recalled this sad break-up letter from John Vorwald to the Lower East Side, published two years ago.
Dear Lower East Side,
I don't know how to say this.
It's over.
For years I defended you.  I stood by you — faithful to a fault. When people said you were dirty or unkempt, I called it character. When they said you were running with a shady crowd and staying out too late, I said it was a phase. And when they shook their heads and said you'd sold out, I'd say you'd come back around.
But I was wrong.
Recently, on the corner of Rivington and Ludlow (the once-proud site of the Beastie Boys' "Paul's Boutique" album cover), a photo shoot was taking place. Two rugged men — shaved heads, chiseled jaws, cultivated stubble — were decked out in full prep-school regalia. Tweed plaid pants, sweater vest, looming crest. Pose, flash, pose. A bearded photographer angled for an incongruous blend of uptown couture and downtown street grit. Princeton ghettoway. Slytherin in the City. Call it what you like.
At that moment, I knew two things were true: Somewhere, someplace, Lou Reed was crying. And you and I were finished.
Sure, we've had our good times; you've been there for me. When I was coming off a breakup with a sleepier borough, you gave me your stripped-wire energy. I loved your pulse — the crackle and hum that only downtown Manhattan could provide (shut up, Fort Greene). Who needed pretty brownstones and an inferiority complex? I had your tenement castles. Forget backyard gardens; I had your grid of fire escapes, my own urban picket fence.
I'll always remember our early days. I wasn't exactly promiscuous, but I'd been around — Greenpoint, SoHo, East Village, Boerum Hill. You reminded me of a gracefully aging rocker, grizzled and sage. I admit it, I liked the cougar in you.
By the early 2000s your renaissance was well under way, but it was your past lives that spoke to guys like me. A simple walk along Orchard Street conjured nickel-and-dime vaudeville, turn-of-the-century Jewish grandparents, '70s punk, bargain leather and the odor of garbage and sour beer. Richard Price once described you as a modern-day Byzantium. You were more like my very own Alexandria, richer for your rag-and-bone ruins. So, I nestled into a fourth-floor perch over Ludlow and listened to the street pop like a 45 track, like so many broken bottles.
It was perfect. For a while.
True, I'm no Reagan-era squatter. My forebears did not immigrate to your streets. But I know a thing or three about you now. Only a few years ago, you'd reserve your special mayhem for the weekends. Amateur nights in your arms — a beautiful mess. All trussed up like a '50s-era pinup model, you were the Queen Bee welcoming one and all with a knowing wink. We were still O.K. then, you and I. I knew that the workweek was our time, when I could still catch glimpses of the real you: the Chinese ladies returning from the Essex Street Market, the local kids playing ball at Roosevelt Park, the tattooed cartoonist stationed in the window across the courtyard. Even the din of bands rehearsing in errant basements along Ludlow.
Then they came — your new friends.
You gussied yourself up with shiny new hardware: Thor, Fat Baby, Spitzer's. Hordes of banker boys in J. Press checked shirt/chino uniforms and manicured necklines swarmed to you faster than to the promise of a government bailout. They enjoyed sausage-party dinners at Schiller's ("It's like Pastis, but edgy!"), used winter as a verb and eyed sun-speckled Germans and Australians "on holiday."
Toothsome Upper East Side girl packs (never fewer than four) tarted up in too-new Lilly Pulitzer dresses and slurped down sugar-free Red Bull and Grey Gooses at the Stanton Social. Hipster millennials, rocking extra-skinny jeans, oversize Elton John glasses and cocked-back fedoras, turned Pianos and Welcome to the Johnsons into their own private Thompson Twins video. Hold me now. Hold my heart.
At first you shrugged, as if to say, "Can I help it if I'm so popular?" The truth is, you liked the attention. And who could blame you? Wasn't it better than the heady days of strung-out junkies on every corner? So, I tried looking in the other direction. I took whole weekends away. I'd leave you to your affairs — the girls and the boys.
I told myself that you'd get it out of your system, that you'd grow out of it. I visited neighbors — precious NoLIta, wizened East Vil — but I kept coming back to you, forgiving your indiscretions. Then, one day, I realized we had both changed. Truth is, you like the new you, this Guitar Hero version of yourself: the mallternative bands, the squeaky-clean beer halls, the rooftop parties at glass hotels. And me? Well, I could say that the ironic T-shirts have lost some of their charm (they have), or that I am not like them (I'm not). But, really, isn't the awful truth that yours is a love only for the very young and carefree? And I am decidedly neither.
So, as the new year dawns, I must vow to leave you, dear L.E.S.
Not sure yet where I'll end up. I should let you know that I've been seeing someone, someone a little less flashy, someone who isn't trying nearly so hard, and — it must be said — someone who actually enjoys the company of an older man. No, it doesn't matter who. What matters is that we've come to the end, my lovely Loisaida. I know I'll miss you, and the spell you once cast over me. But as an old flame of yours named Lou Reed once said, "There's a bit of magic in everything, and then some loss to even things out."
Regretfully,

John Vorwald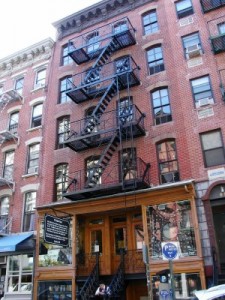 The photo shows The Lower East Side Tenement Museum, Orchard Street, New York (photo credit: Sheila Scarborough).