I have remarked before that whoever wrote William Shakespeare's plays and poetry was deeply familiar with the poetry and prose of Robert Southwell SJ, and had access to Southwell's works in manuscript form.  We know this because most of Southwell's output was only published after his execution in 1595, and Shakespeare's poetry shows Southwell's influence well before this date.
Shakespeare and Southwell were cousins, and both were also cousins to Henry Wriothesley, third Earl of Southampton, Shakespeare's patron and the likely dedicatee of the Sonnets.  John Klause, in his fine book tracing the influence of Southwell's writing on Shakespeare's own words, includes a family tree showing the family connections between these three Elizabethans.  I reproduce some of the tree below, copied from page 40 of Klause's book.   Southwell's mother, Bridget Copley, was a governess to the young Princess Elizabeth, so the connections to the royal family were close.
In addition, Southwell and Shakespeare were also connected through the Vaux and Throckmorton families (Devlin has another family tree, page 264).   And the family connection between Southwell and Wriothesley was in fact closer than Klause's tree indicates. Southwell's eldest brother Richard married Alice Cornwallis, a niece of Henry Wriothesley senior, second Earl of Southampton and the third Earl's father, and Southwell's eldest sister Elizabeth married a nephew of the same second earl, a son of Margaret Wriothesley and Michael Lister.  Thus, Robert Southwell was twice a second cousin by marriage to Henry Wriothesley junior, third Earl (Devlin tree, p. 15).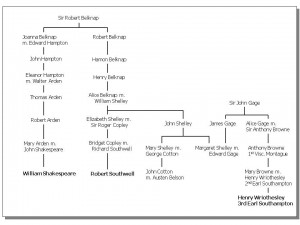 References:
Christopher Devlin [1956]: The Life of Robert Southwell: Poet and Martyr.  New York, NY, USA:  Farrar, Straus and Cudahy.
John Klause [2008]: Shakespeare, the Earl, and the Jesuit. Teaneck, NJ, USA: Fairleigh Dickinson University Press.