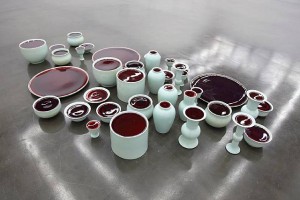 The image shows Container Series (2009), a ceramic installation by contemporary Chinese artist Liu JianHua, recently acquired by the Art Gallery of New South Wales.    From the description of the work by the AGNSW:
In this beautiful celadon work 'Container Series' 2009, Liu acknowledges the magnificent ceramic heritage of China by re-creating traditional ritual vessel shapes such as stem cups and 'gu' ( wine vessel), and placing them alongside more contemporary shapes to present an impressive installation of 37 pieces of varying size and shape. The pieces are randomly arranged, in contrast to the formal presentation of temple and imperial settings of the past. Arranged as an installation they are placed as on a blank canvas. Liu has used a celadon glaze, in emulation of the classic greenwares of the Song dynasty (960-1279). All the pieces look to be filled with a red liquid, but the ceramics are in fact hollow, with a red glaze on top of each piece giving the illusion of liquid. Like the celadon, the red is another classic of the Chinese ceramic repertoire, traditionally known as 'sang de boeuf' or oxblood ('langyao hong'). The way the artist has used the two colours to dramatically contrasting effect is innovative and effective. The red colour evokes blood, and the work may be a homage to those whose blood has been spilt in the pursuit of specific goals. Each piece is handmade and thrown on a wheel. They were glazed first with the celadon then the red 'langyao hong' glaze, after which they were fired only once in a kiln at about 1342 degrees centigrade. Most parts were made in varying numbers of editions.
Eugene Tan has noted of Liu's work that it, 'reflects the complex ontological relation between the production of consumer goods in China and the international art system, thereby also reflecting the recent, rapid growth of the Chinese contemporary art market.' (Tan, undated)   As such, Liu's work makes allusions to the present situation in China both culturally and economically."
[Note: The commentary by Eugene Tan is dated 2009-07-02 on the web-page linked to here.]
A description of another installation of this artist can be found here.