Shi Tao (c. 1642-1707) was an artist, poet and scholar born into a high aristocratic family during the last days of the Ming Dynasty.  After the overthrow of the Ming in 1644 and the establishment of the Manchu Qing Dynasty, Shi Tao was raised and lived initially as a Buddhist monk. This poem is #4 from an illustrated album of 12 poems and paintings, 6 landscapes and 6 flowers, called Returning Home, published in 1695.  The brush styles of the calligraphy and the paintings match the mood of the respective poems in a superb fusion of text, image and idea.  Orchids are associated with "virtuous gentlemen" in Chinese literature, and with the friendship between them.  The last lines of the poem allude to the difficult political times in which the poem was written.  Clicking on the image will reveal the brambles Shi Tao has placed amidst the orchids.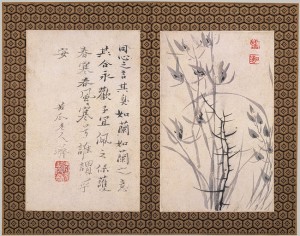 Orchids
Words from a sympathetic heart
Are as fragrant as orchids;
Like orchids in feeling,
They are agreeable and always joyous;
You should wear these orchids
To protect yourself from the spring chill;
When the spring winds are cold,
Who can say you are safe?
Reference:
Wen Fong [1976]: Returning Home. Tao-Chi's Album of Landscapes and Flowers. New York, NY, USA: George Braziller.  The translation is due to Wen Fong.