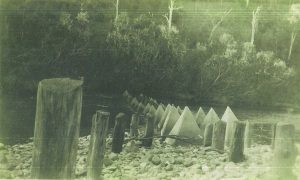 Non-Australians are often unaware how fearful Australians were of being invaded by Japanese Imperial Forces during World War II.  Australians had good reason to be fearful, since Japanese aircraft ran nearly 100 bombing raids on northern Australian towns and settlements, Japanese submarines planted mines in Sydney Harbour, submarines launched bombardments on both Sydney and Newcastle, and they harassed East Coast merchant shipping.  The Japanese regime even printed special banknotes for use as currency in an occupied Australia.   As a result, preparing for an invasion, Australian home forces were deployed, among other activities, in building tank traps – concrete pyramids intended to impede the advance of any invading tanks – on the main roads as far south as northern New South Wales (some 1500 miles down the east coast).  The photo above shows an anti-tank trap at Paddy's Flat near Jenny Lind Creek, Tabulam, northern NSW. A key election issue in the 1943 Federal Election was whether the Opposition parties, when previously in Government at the start of the war, had approved a plan to abandon the entire north of Australia above Brisbane to the invaders.
Several members of my family fought to defend Australia and the region from Japanese imperialism and fascism, and some died in that defence.    Growing up with relatives, family friends, and acquaintances who'd been prisoners of war of the Japanese military perhaps gives one an acute sense of the myriad war crimes committed by those forces during that war, and of the many longer-term physical and psychological consequences of those crimes.  Unlike former POWs of the Wehrmacht, most former POWs of the Japanese military refused to speak of their prison-camp experiences, so horrific and unspeakable were they, and many survivors found themselves unable to cope with everyday life when the war ended.
In the week of Remembrance Day, I wanted to honour those members of my family who fell fighting in that war, or afterwards from its traumas:
Con Hanley (1885-1944), Charles B. McBurney (1890-1943), Cecil C. Sexton (1915-1942), and Ron M. Hanley (1918-1946).