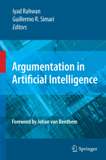 Academic publishers Springer have just released a new book on Argumentation in Artificial Intelligence.  From the blurb:
This volume is a systematic, expansive presentation of the major achievements in the intersection between two fields of inquiry: Argumentation Theory and Artificial Intelligence. Contributions from international researchers who have helped shape this dynamic area offer a progressive development of intuitions, ideas and techniques, from philosophical backgrounds, to abstract argument systems, to computing arguments, to the appearance of applications producing innovative results. Each chapter features extensive examples to ensure that readers develop the right intuitions before they move from one topic to another.
In particular, the book exhibits an overview of key concepts in Argumentation Theory and of formal models of Argumentation in AI. After laying a strong foundation by covering the fundamentals of argumentation and formal argument modeling, the book expands its focus to more specialized topics, such as algorithmic issues, argumentation in multi-agent systems, and strategic aspects of argumentation. Finally, as a coda, the book explores some practical applications of argumentation in AI and applications of AI in argumentation."
References:
Previous posts on argumentation can be found here.
Iyad Rahwan and Guillermo R. Simari (Editors) [2009]:  Argumentation in Artificial Intelligence.  Berlin, Germa ny Springer.