Further to my post about the epideictic case for Barack Obama as President, I recalled this editorial in The New Yorker last month.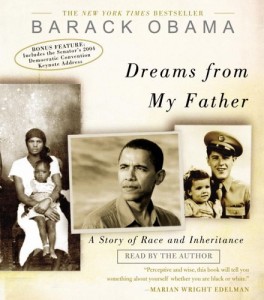 . . . it is Obama's first book, "Dreams from My Father: A Story of Race and Inheritance" (1995), that offers an unprecedented glimpse into the mind and heart of a potential President. Obama began writing it in his early thirties, before he was a candidate for anything. Not since Theodore Roosevelt has an American politician this close to the pinnacle of power produced such a sustained, highly personal work of literary merit before being definitively swept up by the tides of political ambition.
A Presidential election is not the awarding of a Pulitzer Prize: we elect a politician and, we hope, a statesman, not an author. But Obama's first book is valuable in the way that it reveals his fundamental attitudes of mind and spirit. "Dreams from My Father" is an illuminating memoir not only in the substance of Obama's own peculiarly American story but also in the qualities he brings to the telling: a formidable intelligence, emotional empathy, self-reflection, balance, and a remarkable ability to see life and the world through the eyes of people very different from himself. In common with nearly all other senators and governors of his generation, Obama does not count military service as part of his biography. But his life has been full of tests—personal, spiritual, racial, political—that bear on his preparation for great responsibility.
It is perfectly legitimate to call attention, as McCain has done, to Obama's lack of conventional national and international policymaking experience. We, too, wish he had more of it. But office-holding is not the only kind of experience relevant to the task of leading a wildly variegated nation. Obama's immersion in diverse human environments (Hawaii's racial rainbow, Chicago's racial cauldron, countercultural New York, middle-class Kansas, predominantly Muslim Indonesia), his years of organizing among the poor, his taste of corporate law and his grounding in public-interest and constitutional law—these, too, are experiences. And his books show that he has wrung from them every drop of insight and breadth of perspective they contained.
The exhaustingly, sometimes infuriatingly long campaign of 2008 (and 2007) has had at least one virtue: it has demonstrated that Obama's intelligence and steady temperament are not just figments of the writer's craft. He has made mistakes, to be sure. (His failure to accept McCain's imaginative proposal for a series of unmediated joint appearances was among them.) But, on the whole, his campaign has been marked by patience, planning, discipline, organization, technological proficiency, and strategic astuteness. Obama has often looked two or three moves ahead, relatively impervious to the permanent hysteria of the hourly news cycle and the cable-news shouters. And when crisis has struck, as it did when the divisive antics of his ex-pastor threatened to bring down his campaign, he has proved equal to the moment, rescuing himself with a speech that not only drew the poison but also demonstrated a profound respect for the electorate. Although his opponents have tried to attack him as a man of "mere" words, Obama has returned eloquence to its essential place in American politics. The choice between experience and eloquence is a false one––something that Lincoln, out of office after a single term in Congress, proved in his own campaign of political and national renewal. Obama's "mere" speeches on everything from the economy and foreign affairs to race have been at the center of his campaign and its success; if he wins, his eloquence will be central to his ability to govern.
We cannot expect one man to heal every wound, to solve every major crisis of policy. So much of the Presidency, as they say, is a matter of waking up in the morning and trying to drink from a fire hydrant. In the quiet of the Oval Office, the noise of immediate demands can be deafening. And yet Obama has precisely the temperament to shut out the noise when necessary and concentrate on the essential. The election of Obama—a man of mixed ethnicity, at once comfortable in the world and utterly representative of twenty-first-century America—would, at a stroke, reverse our country's image abroad and refresh its spirit at home. His ascendance to the Presidency would be a symbolic culmination of the civil- and voting-rights acts of the nineteen-sixties and the century-long struggles for equality that preceded them. It could not help but say something encouraging, even exhilarating, about the country, about its dedication to tolerance and inclusiveness, about its fidelity, after all, to the values it proclaims in its textbooks. At a moment of economic calamity, international perplexity, political failure, and battered morale, America needs both uplift and realism, both change and steadiness. It needs a leader temperamentally, intellectually, and emotionally attuned to the complexities of our troubled globe. That leader's name is Barack Obama."
Reference:
The Editors [2008]: The Choice.  The New Yorker, 13 October 2008.